GMA Network's newest international channel — GMA News TV International — is now available in 18 areas across the globe.

GMA News TV is the network's third international channel, with the first being GMA Pinoy TV (with some two million viewers) and GMA Life TV (with about a million viewers).

GMA Network also expanded the overseas reach of its AM radio station DZBB and FM radio station DWLS via its third quarter launches in FetchTV Australia, Hawaiian Telecom, and Time Warner Carolinas and North East Region.
GMA News TV International is currently seen in Australia (via FetchTV and UBI World TV), New Zealand (via UBI World TV), Guam (via GTA TeleGuam), and Japan (via IPS Japan).
GMA News TV International delivers timely and comprehensive
local
news
from the Philippines straight to thousands of Filipino households abroad.
It is powered by the most awarded and the most credible broadcast news team in the Philippines, the GMA News and Public Affairs.
The channel is bannered by the most respected names in broadcast journalism today - Jessica Soho, Mike Enriquez, Mel Tiangco, Arnold Clavio, Vicky Morales, and Howie Severino.
"With the aggressive expansion of GMA's international channels, we bring more of our fellow Filipinos abroad closer to home as we let them experience valuable and relevant news and entertainment programming that they have come to expect from GMA Network," said Joseph T. Francia, Vice President and Head of Operations of GMA International.
GMA Network continues to strengthen its presence worldwide through events and festivals in partnership with the various Filipino communities in the US (including Hawaii), Canada, Dubai, Singapore, Hong Kong, and Australia.
For the first nine months of 2011, GMA International's combined programming and marketing efforts resulted in a six percent (6%) year-on-year revenue growth in dollar terms.
International channels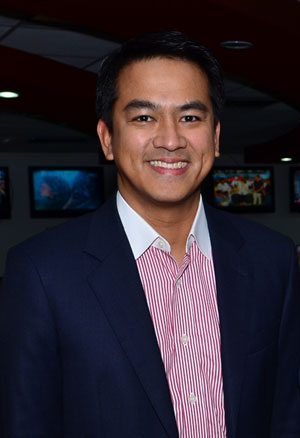 Joseph Francia, Vice President and Head of Operations of GMA International
Meanwhile, GMA Pinoy TV and GMA Life TV are being viewed by more Filipino households in the Asia Pacific via FetchTV Australia, Hawaiian Telecom, and Tolec Electronics (Papua New Guinea), and in the U.S. via Brighthouse (Central Florida), SureWest Broadband (Sacramento), Comcast (New Jersey, Pennsylvania, Delaware, Michigan, Seattle, and Houston), and Time Warner (North and South Carolina, Upstate New York, and North East Region).
GMA Pinoy TV also offers a number of shows mainly by and about Filipinos abroad.
Through its partnership with Pinoy-owned media companies, GMA Pinoy TV airs Filipino co-production programs such as "Power ng Pinoy," "Pusong Pinoy sa Amerika," and "Kaya Mong Gawin."
GMA Pinoy TV also strengthened its sports programming this year with:
the exclusive telecast of the Philippine National Basketball Team at the 33rd Jones Cup and FIBA-Asia Champions Cup;

the "Island Assault" boxing matches featuring Brian Viloria, Denver Cuello, and Michael Farenas;

the back-to-back bouts of Ana Julaton versus Gladney and Jessica Villafranca, and

"Rugby 101" featuring the Philippine Volcanoes.
SOURCE